Watch World Equestrian Games 2006 FREE on HorseTV Access. Over 100 hours of World Equestrian Games 2006, starting Sep 4th. Dressage, Show Jumping, Eventing, Endurance, Driving, Vaulting and Reining are all featured during the HorseTV Access free trial.
The HorseTV Channel introduces its new broadband channel, HorseTV Access, with a free week of The World Equestrian Games 2006 from Aachen, Germany. The World Equestrian Games 2006 presentation is a "Free Rein" direct feed which gives viewers the feeling of "being at the event." HorseTV Access begins airing The HorseTV Channel's regular programming on September 12th. Viewers will receive one week's Access free, upon subscribing to the broadband channel.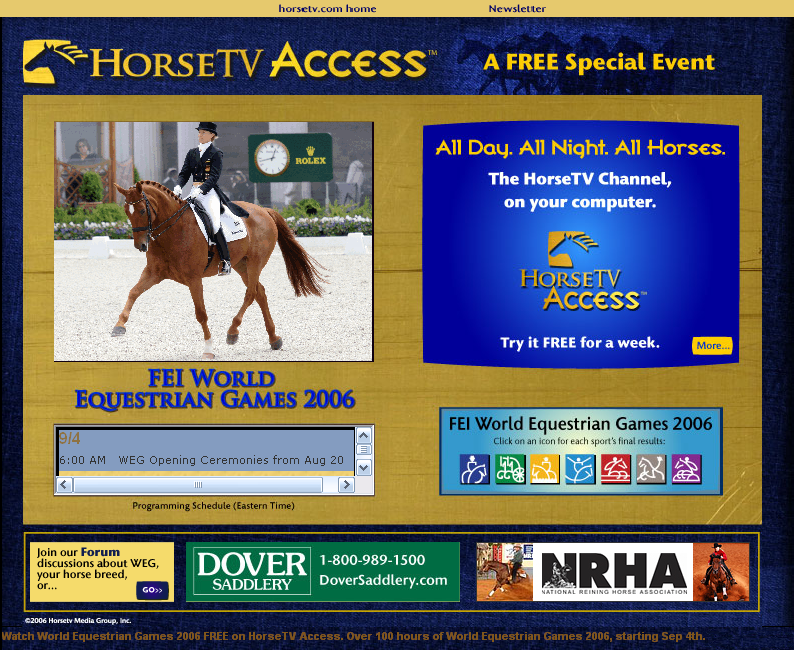 The World Equestrian Games 2006
The United States sent competitors in both teams and individual events in all seven disciplines to the World Equestrian Games 2006. The U.S brought home 9 medals from World Equestrian Games 2006, one more than World Equestrian Games 2002. The Reining Team brought home Team Gold for the second time, together with individual Silver (Tim McQuay) and Bronze (Aaron Ralston). The Vaulting team brings home Team Silver, plus individual gold for Megan Benjamin. There was a Bronze Medal for eventer Amy Tryon and Team Bronze also for the Dressage Team. Silver Medals went to The US Show Jumping Team and also to Beezie Madden (individual Silver Medal, Show Jumping).
A Brief History of The FEI World Equestrian Games.
Prince Philip, president of the FEI during the 80's, proposed the holding of a combined World Championships for the six most important equestrian disciplines, for the first time at one location. In 1990, the very first World Equestrian Games were referred to as The World Championships and included show jumping, dressage, driving, eventing, vaulting, and endurance. The event was such a great success that the World Equestrian Games are now held every four years, two years prior to the Summer Olympics. To many, these championships are even more relevant to the equestrian world than the Olympics, as the Olympics only host three of the seven mainstream equine events featured at The World Equestrian Games - show jumping, dressage and eventing.
The inaugural World Equestrian Games were held in Stockholm, Sweden in 1990. The World Equestrian Games were next held in 1994 at The Hague, in the Netherlands, followed by WEG 1998 in Rome and WEG 2002 in Jerez, Spain. At the 2002 World Equestrian Games a seventh championship discipline, reining, was added. In 2010, the World Equestrian Games will be referred to as the " FEI Games" and will be held at the Kentucky Horse Park, in Lexington Kentucky, USA.
HorseTV Access
Through HorseTV Access, subscribers will enjoy The HorseTV Channel's extensive programming lineup including series such as AQHA's Best of the West, The Complete Rider, FEI Equestrian World and Richard Winters Horsemanship as well as top English and western competitions, rodeo, polo and children's series.